Latest Adventure & Roleplay Software
This is a Mac adventure Remake of a german Apple ][ game. After failing of all missions to explore the interior of this castle, two decades later someone enters the castle again. Will you catch its secret, but escape from it living?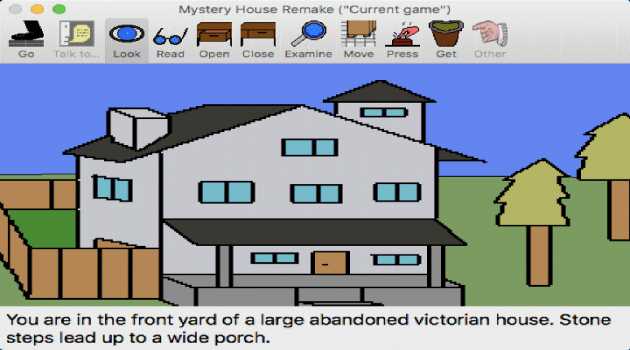 Wander through an old house with many rooms. Find the citizens one by one - dead. Find the killer before he (or she?) ends up killing you.
You're visiting Transylvania, it is dark with full moon bathing the landscape in light. While wandering around, youll find a note, reading 'Sabrina dies at dawn'. Your task is to rescue her.
Pharaohs' Curse (Gold) is a platform game mixed with cool puzzles, in fact, the main focus is on the puzzle elements. In this game you can use drills, hammers, picks and shovels to break the tiles that guard the gold. Epic fantasy role playing adventure in an enormous and unique world. Multitudes of side quests, hidden dungeons, magical treasures, and secrets to discover. Fascinating story with many different endings. Your decisions will shape the world! Take on the role of d'Artagnan in his quest to become a Musketeer. Journey to Paris and befriend the famous musketeers Athos, Porthos, and Aramis. Duel the cardinal's Guards and fight to save the queen's honor. All for one and one all! This classic first-person adventure game takes place in a maze built by the spirit of Daedalus. This maze stretches though space and time. A power-mad King intends to use it to rule the universe. The player must destroy this labyrinth of time. Inherit the Earth: Quest for the Orb tells the tale of Rif the Fox and his attempt to prove his innocence in the theft of the Orb of Storms. Guide Rif in finding clues, overcoming challenges, and exploring a land of intelligent, humanoid animals.
PlayDetective: Heartbreakers is an adventure game where you play the role of a private detective.
Become a trader, bounty hunter, or even a pirate in Jack of All Trades. Join the rebellion or fly solo while trying to earn enough cash to survive. Visit the shipyard, then outfit your new ship with weapons and other enhancements. Guaranteed fun!